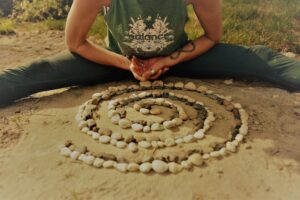 Chakras are centers of energy and consciousness. Along the spine, the chakras are connected through the energy channels. Each chakra supplies energy to a specific area of the body. The more energy flows within us, the fresher and more alive we feel. When the energy is flowing in your chakras, your body, mind and spirit are healthy. Each chakra has its predominant characteristic: People communicate through the chakras and often exchange a lot of energy here.
Chakra-Systems
There are different chakra systems. I work with the 7 main chakras, as well as the earth star and soul star chakra in my classes.
Would you like to get to know yourself more deeply through your chakras?
You can find more theory about each chakra in the section Chakras. In my Chakra Day Workshop (8 hours), or in the eight-part Chakra Yoga and Meditation Series (8 yoga and meditation sessions of 90 mins each) you will learn practically a lot about yourself and your chakras. The day workshop as well as the eight-part Chakra Yoga and Meditation Series are suitable for beginners as well as advanced practitioners.
I am looking forward to hearing from you! 🙂
Contact me