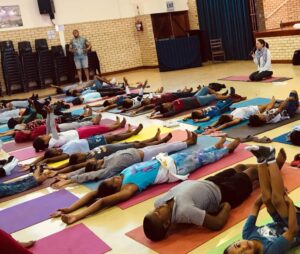 Teaching Yoga to Adults of all ages and stages has been my passion for a long time already.
Teaching Prenatal Yoga did not come that easily. After completing the training in New York in 2011, I thought that I will not actually teach yoga to pregnant women. But as with many things, life surprised me. Just a few weeks after I completed the training a few synchronicity events lead me to my first Prenatal Yoga course and many more followed over the years.
Kundalini Yoga with children
Teaching Kundalini Yoga to children came even more unexpectedly to me. I heard about a children holiday event in Lavender Hill, Cape Town and felt that I should get involved. I have had lots of experience in teaching yoga to diverse groups of adults, but never before have I done Yoga with a big group of children between 6 and 14. I threw myself into the cold water and we loved it. It was an amazing experience and I decided to 'dive deeper' into Kundalini Yoga for Children. Hence I became a certified Kundalini Yoga Teacher for children in summer 2019.
For further information:
Contact me