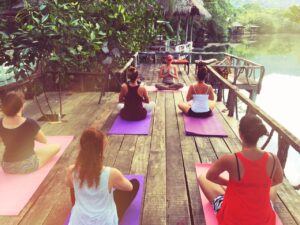 Kundalini Yoga is called the yoga of awareness. This yogaform is an elevating synthesis of physical and spiritual practices- exercising the body, sharpening the mind and uplifting the spirit; with slow and dynamic movement and breathing, mantra chants and pranayama meditation. All yogas favour the activation of the 'life force', the Kundalini, and this practice more so. By setting in motion the energy flow from the lower chakras to the higher chakras, we raise awareness and consciousness.
My classes are dynamic and energizing, as well as slow and meditative. It is important to me to adapt the rhythm of the class to the group energy. If you prefer, I can also offer individual classes.
In a group setting I pay close attention to everyone, so that beginners and experienced yogis can enjoy Kundalini yoga simultaneously. We raise the energy together. The group experience is more important than the perfect body posture.  Safety is of upmost importance to me, and my intention is to create an enjoyable introduction into Kundalini Yoga, or enhancing your acquired practice.
I am looking forward to our joint journey!
Currently I teach mainly online in small groups of up to 6 people in German, English and Spanish. If you prefer private lessons, this is of course also possible.
Generally, I teach on weekdays from 19.00-20.30. Other dates are also possible by arrangement.
Prices: Single lesson in a group -> 20€/90 mins | Package of 5 classes: 90 € | Package of 10 classes: 180 €
Private lesson: 60€/60 mins | 80€/90 mins
On Thursdays I teach Kundalini Yoga from 6.15-7.30pm & on Saturdays Yin-Yang Yoga from 10.00-11.30am at House of Yoga.
For further information:
Contact me