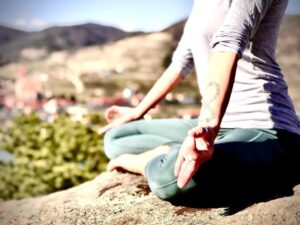 Mindfulness, Yoga and Meditation at POWER-PLACES in MOTHER NATURE – Immerse yourself into the healing powers of the elements, connected with the six senses!
As we consciously breathe and spend time in the greater outdoors, our body, mind and soul are strengthened.
DEEPEN THE CONTACT BETWEEN YOURSELF & THE ELEMENTS!
DIVE INTO THE ART OF BEING!
Forest Bathing
Have you ever heard of forest bathing – also called "Shinrin-Yoku"? Contrary to what one might think, forest bathing does not mean bathing in forest waters, but rather the conscious perception of nature. You could also call it "bathing in the forest air".
You create a connection to nature that strengthens your body and mind. You connect with your natural source – nature. During forest bathing you perceive nature with all your senses. This way you take more and more distance from your stressful everyday life. I love the "bathing in the forest", as well as the "forest bathing" … both have something for themselves.
MINDFULNESS, YOGA, MEDITATION & BATHING in NATURE is the most beautiful connection with my inner origin to me!
The healing power of the elements
I love to dive into the healing powers of the elements connected with my six senses!
I strengthen the connection to my 5 senses to be able to perceive my 6th sense better! So my 6th sense gives me answers for myself & my life! So I stopped years ago to look for answers in the outside world and began to find them inside myself instead!
I deepen my connection to the elements earth, water, fire, air. I charge myself with the forces of the elements in nature with affirmations, asanas, breathing exercises, energy-harmonizing techniques &visualizations!
🍀 Do you also too want to relax & energize both body, mind & spirit with yoga in nature?
🍀 Do you also too want to bathe in the forest air?
🍀 Do you also want to perceive your inner voice better?
🍀 Do you also want to feel the power of the elements in you?
Then join my full-day workshop Mindfulness, Yoga & Meditation in Nature!
WHERE: individually by arrangement at power places in nature
DURATION: 8 hours
COST: 88€
I have aroused your interest?
Then I look forward to hearing from you. 😊
For further information:
Contact me