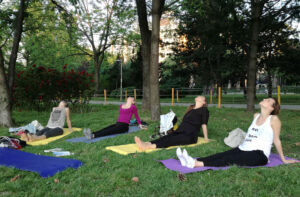 Khalsa Way Prenatal yoga leans on Kundalini Yoga, but is adapted for pregnancy. In my Prenatal Yoga classes you learn how to support your pregnancy positively with yoga and meditation. You experience the special effects of yoga and meditation in this very special time of your life on your body, mind and soul.
Yoga during pregnancy is mostly gentle, but also includes strengthening elements. I adapt the sessions individually to your needs and those of the other expectant mothers. In my Prenatal Yoga classes, I place great emphasis on the connection between you and your baby, as well as the mothers among themselves.
Mindfulness exercises and meditation strengthen the connection and trust in your own intuition and your baby. In this way you will feel more and more how you can support yourself as an expectant mother, and your child in the womb. Through various breathing techniques you will improve the oxygen supply to your baby in the womb, and these techniques will also give you relief during birth.
Prenatal Yoga and Mantras
Poota Mata Kee Asees is a beautiful mantra to bless your (unborn) child. Hear or sing this mantra whilst visualizing and  feeling how your child is protected. Listen to it daily or whenever you feel that your child needs more protection.
A beautiful version of the mantra can be found here: Poota Mata Kee Asees – Nirinjan Kaur
The Adi Shakti Mantra is another mantra that is very suitable for pregnancy. It connects you to the great Mother Earth, and her Shakti energy. Listening to and reciting this mantra supports you in your role as an expectant mother, it helps you connect with the qualities of the great mother.
This is a very nice version of the mantra Adi Shakti: Ajeet Kaur – Adi Shakti
Pelvic floor
In my Prenatal Yoga classes you will also be deepening your knowledge of the pelvic floor by learning to focus your attention on it and gently activating it. A good awareness and functioning of the pelvic floor is important for the birth process as well as for the time after birth, so that it remains as healthy and functional as possible.
I AM LOOKING FORWARD TO ASSISTING YOU IN THIS VERY SPECIAL TIME IN YOUR LIFE! 🙂
No special knowledge is required to participate in Prenatal Yoga, but medical clearance is recommended. Optimal would be a participation from the 2nd pregnancy trimester onwards, when the pregnancy is already consolidated.
Currently I teach LIVE & ONLINE in small groups of up to 6 people in German, English and Spanish. If you prefer private lessons, this is of course also possible. I teach LIVE in the greater area of Mödling upon request, as well as regularly in the House of Yoga in Wr. Neudorf.
Generally, I teach on weekdays from 19.00-20.30. Other dates are also possible by arrangement.
Prices:
Single lesson in a group -> 20€/90 mins | Package of 5 classes: 90 € | Package of 10 classes: 180 € (including essential oils)
Private lesson: 60€/60 mins | 80€/90 mins
Upon request I teach a Prenatal Yoga Workshop at House of Yoga in Wr. Neudorf:
For further information:
Contact me