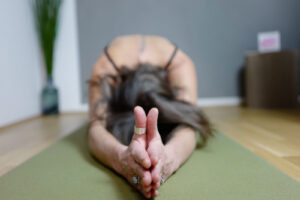 In our very yang-world, Yin Yoga feels really good!
Give it a try!
WHAT IS YIN YOGA?
Yin Yoga is a passive, slow yoga practice. Your body goes into a state of deep relaxation through gentle stretches and asanas that you hold for 3 to 5 minutes. It is important to be aware of yourself and how your body feels: A position may bring up feelings of unease and adjustment, but should never hurt you. You surrender to the asana, you do nothing, but breath deeply and turn the work over to the asana.
Each pose energetically stimulates the acupressure points, meridians and chakras in your body. That stimulation enhance the body's energetic flow and supports emotional equilibrium. The meridian system relates to the deepest layer of the connective tissue, so that the flow of life energy is positively influenced. Deeper body layers, the fascia, ligaments, tendons and joints are being addressed.
Yin Yoga is for everyone
This Yoga-style  is for everyone: the yoga poses are adapted to the practitioner, instead of the practitioner adapting to the yoga pose!
I hope to see you soon on the mat & practice gentle yet deep stretching with you! 🙂
Currently I teach mainly online in small groups of up to 6 people in German, English and Spanish. If you prefer private lessons, this is of course also possible.
Generally, I teach on weekdays from 19.00-20.30. Other dates are also possible by arrangement.
Prices: Single lesson in a group -> 20€/90 mins | Package of 5 classes: 90 € | Package of 10 classes: 180 €
Private lesson: 60€/60 mins | 80€/90 mins
On Thursdays I teach Yin-Yoga from 7.50-9.00pm & on Saturdays Yin-Yang Yoga at House of Yoga in Wr. Neudorf from 10.00-11.30am.
For further information:
Contact me